Galaxy S20 Plus Deals on Voxi
Description
Who has the best deal on a Galaxy S20 Plus in the UK?
Metrofone probably has the best Samsung Galaxy S20 Plus deals in the UK on a pay monthly contract. There are a few reasons for this.
They offer 24 month contracts, meaning you don't have to lock into a long term contract.
They have some of the lowest total costs compared to other major networks.
You can get the S20 Plus with either EE, Three, or Vodafone, allowing you to choose your favourite network – plus, you get all the individual benefits of that specific network, such as free roaming with Three.
They offer a great range of data plans, allowing you to buy only the amount of data that you actually need.
You can also buy the phone SIM free if you'd prefer.
Although you can buy the Samsung Galaxy S20 Plus direct from a major network, in terms of overall value for money, you're probably better off getting an S20 Plus 5G from a reseller.
Currently, these resellers offer the phone with a much lower monthly and upfront cost. In other words, they offer the best Samsung Galaxy S20 Plus deals in the UK right now.
How do I find the right Samsung Galaxy S20 Plus 5G deal for me?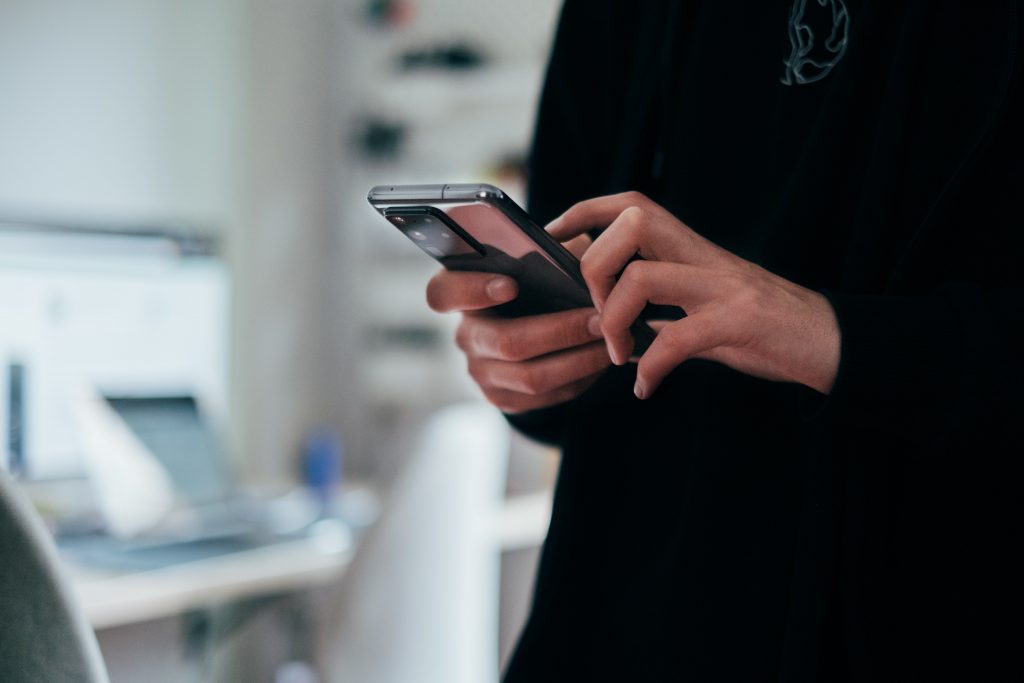 When looking at Galaxy S20 Plus 5G deals, the first thing to think about is whether you want to buy a phone in contract on a pay monthly deal, or buy the handset SIM free and have a lower monthly cost.
If you buy a phone in contract on a pay monthly deal, you'll have to commit for either 24 months or 36 months. However, your monthly cost will be fairly low for the entire contract length, and you'll only have to pay a small amount up front. Plus, you can often get good free gifts as a bonus for buying a handset on a pay monthly contract.
If you buy the Samsung Galaxy S20 Plus outright and then buy a SIM deal, your monthly cost will be lower. However, you'll have to pay a decent upfront cost to buy the phone. This might be your only option if you have a poor credit history – most mobile networks will run a credit check prior to giving you a phone contract.
Next, you need to think about how much data you need.
The best way to calculate your data needs when looking at mobile phones to buy is to look at your historical data usage. Read our guide to find out how to find your past mobile data usage on your current device.
Finally, think about what else is important to you. Most modern handset contracts come with unlimited texts and unlimited minutes to UK numbers. However, you might also want the ability to do international roaming, or want to buy a phone plan from the same provider as your home broadband, in order to take advantage of a special discount. For example, BT and EE both offer a few pounds off the monthly cost of their phones for broadband customers.
Is it worth buying a Samsung Galaxy S20 Plus?
The Samsung Galaxy S20 Plus is still a very good phone, and is worth buying for many people.
It offers three really awesome rear cameras, including a 64MP telephoto camera. The front selfie camera also offers crisp, clear photos.
The Infinity O display really pops, and the phone has most of the features you'd expect from a top of the line handset- such as a 120 Hz refresh rate, 5G network compatibility, and a 4500 mAh battery – meaning it'll last for about 9 hours of continuous screen time.
However, newer phones might outperform the S20 Plus in certain areas, since it was released in March 2020. Although the Samsung S20 Plus has fantastic cameras, newer phones might deliver slightly better images. Newer phones might also feel slightly snappier with newer processors, and might look a bit nicer. One of the more noticeable differences between the S20 Plus and more modern handsets is the look of the rear cameras – they're not as sleek as they look on the S21, for example.
What colours are available with the Samsung Galaxy S20 Plus?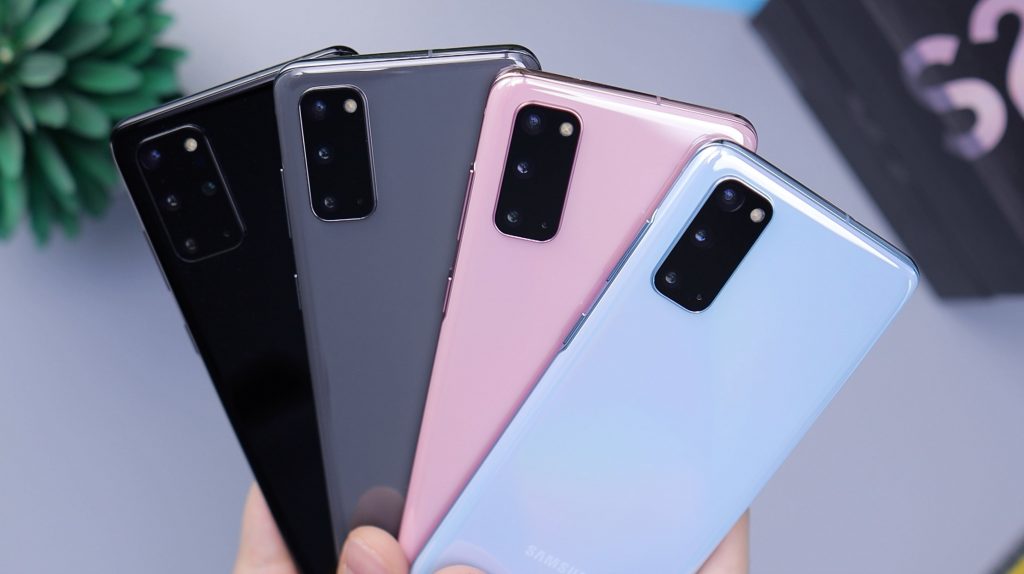 The S20 Plus is available in the following colours:
Cosmic Black
Cosmic Grey
Cloud Blue
Sadly, the colour range on this handset isn't as good as the regular S20 or the S20 FE. You can't get it in pink for example.
Cloud Blue is the most exciting of the three colours, featuring a slight rainbow iridescent effect under the right lighting.
How good is the screen on the Samsung Galaxy S20 Plus?
The Samsung Galaxy S20 Plus has a pretty good screen by modern smartphone standards.
Things generally look sharp, thanks to the 6.7 inch dynamic AMOLED display.
The resolution is pretty good, at 3200 by 1440 pixels at 525 dots per inch (the iPhone 12 has 460 DPI, for context), meaning it looks great at close range.
Games and general usage looks silky smooth, thanks to the 120 Hz refresh rate. Unfortunately though there is no adaptive refresh rate to save battery on the S20 Plus, but you can switch it to 60 Hz if you'd like the screen to not use so much battery.
The downside to the S20 Plus screen is it has slightly curved edges, which some people don't like, and the bezels are a bit bigger than on newer Samsung phones.
How good is the camera on the Samsung Galaxy S20 Plus?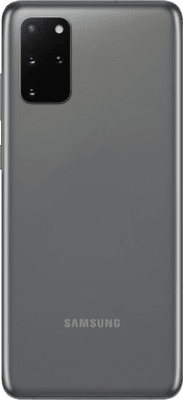 The Samsung Galaxy S20 Plus has very good photography capabilities, even compared to the latest smartphones.
The S20 Plus offers very vivid colours, and fast autofocus. The cameras on the back are extremely good at their job.
Night photos are generally good, but the detail could be a bit better.
Samsung include "Single Take" with this handset. If you're unsure whether to use panorama, night mode, or any other setting, Single Take will do one of everything, and package the photos into a neat little album for you, so you can choose the best photos.
Videos look great on both the back and front camera – the Samsung Galaxy S20 Plus can shoot 4K at up to 60fps, and 8K at up to 24fps.
The 10MP front camera is very good, but its depth-sensing isn't perfect.
The 64MP back camera offers up to 30x digital zoom. It works well, but does look a bit muddy when zoomed all the way in.
How good is the battery on the Samsung Galaxy S20 Plus?
The Samsung Galaxy S20 Plus has very good battery life, especially compared to the previous model – the Galaxy S10.
The battery offers plenty of charge, even if you use your device for 6+ hours per day. It's very difficult to make it run out in a single 24 hour period, unless you spend the whole morning, afternoon and evening playing games.
The only issue with the S20 Plus's battery is it's not as smart as it could be at minimising battery usage.
Samsung Galaxy S20 vs S20 Plus vs S20 FE vs S20 Ultra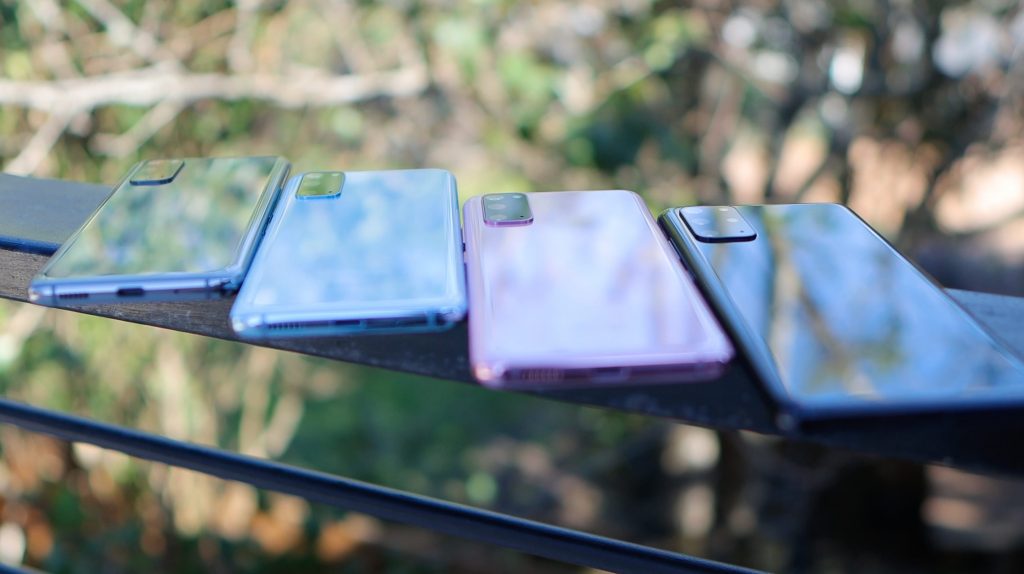 There were four different phones launched by Samsung with the S20 range.
The S20 was the base model. It's very similar to the S20 Plus, featuring the same processor and RAM, but is lighter, has a smaller screen and comes with a smaller 4000 mAh battery.
The S20 FE is the cheaper model, designed for affordability. It comes with only 6GB of RAM, a cheaper screen, larger bezels, and a polycarbonate shell (rather than glass). The FE surprisingly came with a better selfie camera, at 32MP instead of 10MP.
The S20 Plus is designed to offer a small upgrade on the S20, especially in terms of size. It's slightly bigger, with a 6.7 inch (rather than 6.3 inch) screen, and has a larger battery. Other than that, the phones are very similar, with the same CPU, RAM, and storage on offer.
The S20 Ultra is another step up from the S20 Plus in terms of both size and performance. It comes with a 6.9 inch screen, a slightly better 108MP rear camera that offers up to 100x zoom, and a 40MP selfie camera. It also has the biggest battery of all four phones, at 5000 mAh.
Samsung Galaxy S20 Plus vs S21 Plus
The Samsung Galaxy S21 Plus is the newer, more expensive version of the S20 Plus. So what do you get for the extra money?
Lighter design: S20 Plus is 14g heavier than the S21 Plus.
Better screen: the S20 Plus has relatively thin side bezels and a screen that curves at the edge.
Bigger battery: the S21 Plus outperforms the S20 Plus, as the former has a larger battery and an adaptive refresh rate, making it better at conserving battery life.
Smarter camera design: the rear camera looks a lot better on the S21 Plus compared to the S20 range.
However, the Samsung Galaxy S20 Plus is the only one of the two phones to have a micro SD card slot. On Samsung's newer phone, the storage is not expandable.
Other than this, the two phones are very similar. They both have a 6.7 inch screen, wireless charging, and the ability to use 5G data networks.
Additional information
| | |
| --- | --- |
| Product Version | 32260 |
| Brand | Samsung |
| Model | Galaxy S20 Plus |
| Colors | Black, Blue, Grey, Pink |
| Dimensions | 161.9 x 73.7 x 7.8 mm |
| Screen size | 6.7 inches |
| Screen resolution (pixels) | 3200 x 1440 |
| Screen refresh rate | 120Hz |
| Rear camera(s) (megapixels) | 12, 12, 64 |
| Front camera(s) (megapixels) | 10 |
| Operating system | Android |
| Weight | 186g |
| RAM | 8GB |
| Chipset | Exynos 990 |
| Storage options | 128GB |
| Battery capacity | 4500mAh |
| Charging port | USB-C |
| Virtual assistant | Bixby |
| Water/dust proofing | IP68 – dust-proof, waterproof up to 1.5m for 30 mins |
| Wireless charging | ✔️ |
| 5G compatibility | ✔️ |
| Memory card slot | ✔️ |